Dr Vernon Johns Essays
Dazahn
/
"Why did he do what he did for all these people? He believed it was the right thing to do."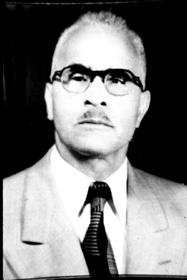 This is my hero, Vernon Johns
My hero is Dr. Vernon Johns. Why is he my hero you ask? He did a lot of things people would not think of doing. He was a leader in the American Civil Rights Movement, so that's why he is my hero. He helped black men and woman, before Martin Luther King Jr. was there. He did this for many years.
I am just going to give you some background information on my hero and what he did for us. It all started in April 22, 1892 – June 11, 1965. He was an American minister and civil rights leader who was active in the struggle for civil rights for African Americans. He is considered the father of the American civil rights movement and he laid the foundation on which Martin Luther King Jr. and others would build. He was a pastor at Dexter Avenue Baptist Church in Montgomery, Alabama from 1947 to 1952.
He gave speeches about the importance that every individual should have in the affairs of the world. Many people looked up to him.
And why did he do what he did for all these people? He believed it was the right thing to do.
Page created on 10/15/2007 4:46:49 PM
Last edited 10/15/2007 4:46:49 PM

In 1954, Martin Luther King, Jr., succeeded Vernon Johns as minister of Dexter Avenue Baptist Church. Reverend Johns had a lasting affect on King both personally and professionally. In Stride Toward Freedom, his memoir of the Montgomery bus boycott, King described Johns as "a brilliant preacher with a creative mind" and "a fearless man, [who] never allowed an injustice to come to his attention without speaking out against it" (King, 38). King found an example in Johns, a preacher who was able to use his religious position in the community to challenge his congregation to be less provincial.
Vernon Johns was born in Darlington Heights, Virginia, in 1892. He graduated from Virginia Theological Seminary and College in 1915 (AB), and earned a BD from Oberlin College three years later. Prior to his pastorship at Dexter Avenue Baptist Church, Johns pastored churches in Virginia, Pennsylvania, and West Virginia.
As Dexter's pastor from 1947 to 1952, Johns was an early proponent of civil rights activity in Montgomery, urging his congregation to challenge the traditional status quo. In response to discrimination on city buses, Johns once disembarked in protest and demanded a refund. He was well known for his controversial sermon topics, such as "It Is Safe to Kill Negroes in Montgomery," and he also shocked his middle-class congregation by selling farm produce outside the church. His early activism and challenges to the power structure paved the way for Dexter's congregation to receive King's socially active ministry and enabled King to take a leading role in the Montgomery bus boycott.
King and Johns were both frequent guests at Ralph Abernathy's Montgomery home. Abernathy recalled that on one occasion, the three of them talked "about the situation at Dexter Avenue" and "about the oppression of our people and the growing belief that a sea of changes was taking place" (Abernathy, 125; 126).
Following his departure from Dexter, Johns continued to speak at churches and colleges throughout the United States. At King's request, he returned to Dexter as guest preacher for its 79th anniversary service. In addition to his speaking engagements, Johns also served as the director of the Maryland Baptist Center from 1955 to 1960 and was active in Farm and City Enterprises, Inc., an economic cooperative that enabled farmers to sell their goods directly to the consumer. In 1960, Johns wrote King requesting his assistance with raising capital for the cooperative, noting that he had been successfully speaking to groups that couldn't book King. He teased King, "It takes a mighty big man to enjoy hearing an audience say how glad it is the invited speaker couldn't get there!" (Papers 5:455). Johns continued to preach until his death in 1965, which ─ ironically ─ was within a week of delivering a sermon entitled "The Romance of Death."
SOURCES
Abernathy, And the Walls Came Tumbling Down, 1989.
Branch, Parting the Waters, 1988.
Introduction, in Papers 2:29─30.
Johns to King, 8 May 1960, in Papers 5:455─456.
King, Stride Toward Freedom, 1958.
King to Howard Thurman, 31 October 1955, inPapers 2:583─584.
King to Johns, 18 September 1956, in Papers 3:372.